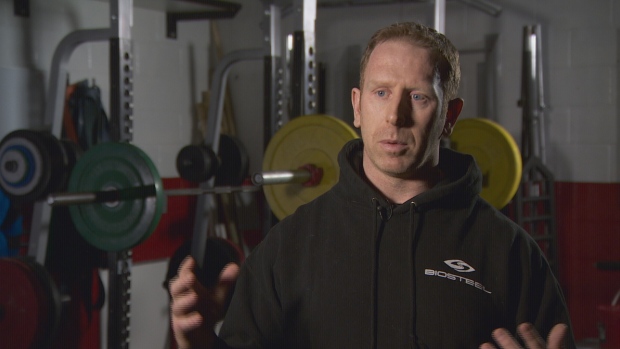 Matt Nichol developed safe, high performance sports drink while working with Toronto Maple Leafs
Matt Nichol was so concerned about feeding the Toronto Maple Leafs "pills, powders, tablets, capsules and every different potion you could imagine" when working with the NHL team that the strength and conditioning coach came up with his own nutrition product.
He called it BioSteel and, and more than a decade after concocting it, it is now the preferred sports drink of many of the top names in sports. Unlike high-sugar drinks like Gatorade, he says the pink drink doesn't contain preservatives, additives or unnatural colouring.
Nichol told CBC News he was inspired to create BioSteel in 2003 when he was still with the Maple Leafs after hearing the NHL would soon be implementing a league-wide anti-doping program.
"From day one, I never really felt completely at ease with the use of all these supplements but it wasn't until I had a conversation with someone who works in the (NHL) office who told me they were going to have mandatory drug testing," Nichol said.
He said he realized he bore "a lot of personal liability because I'm the one handing out these supplements" so he began investigating.
"I didn't fully understand what was in a lot of the products I was distributing so I took out all the products and contacted each and every company we were purchasing products from," Nichol said. "I told them I needed documentation to say the product has been tested and doesn't contain any banned substances, and not one of those companies were able to provide me with that documentation.
'Eye-opening moment'
"It was really eye-opening moment for me," he said.
Nichol figured that if he was "able to get all the raw materials, get it manufactured and get third-party drug testing, at the very least I'd have peace of mind and I could say to my players, 'I feel very confident that the product I'm giving you is safe.'"
Nichol went about contacting scientists in his network and formulated the drink, but convincing players to reach for his drink instead of what they were guzzling was a tough sell.
"I needed to find a way to say, 'Those are not healthy for you, but I have an alternative that's going to give you a similar performance benefit,'" Nichol said.
Players eventually bought into his pink concoction, and New Jersey Devils forward Mike Cammalleri approached Nichol about making and selling the product. They've been partners since.
According to Forbes Magazine, 23 NHL franchises pay for BioSteel products, along with 14 NBA organizations and 18 Major League Baseball teams. And BioSteel made headlines last week after the Toronto Raptors opened BioSteel Centre, a state-of-the-art training facility at Exhibition Place.
"The only way we're able to be successful and compete is because we're competing with the truth," Nichol said. "These athletes love the product, they believe it helps them and that's the real message."
http://www.cbc.ca/news/canada/toronto/bio-steel-nutrition-1.3451022