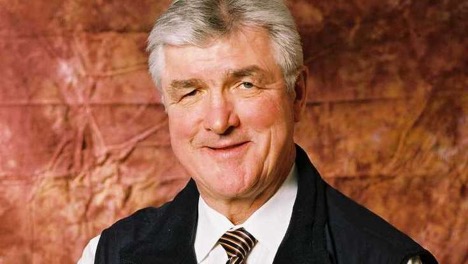 My First Boss
John Brian Patrick Quinn passed away November 23,  2014 at the age of 71. Pat was a legendary figure in the world of hockey.  It would be very easy for any of you to Google his coaching record or long list of accomplishments as a player or coach but I would like to share with you my personal memories of Pat.
My First Boss
In the summer of 2002 I received a phone call out-of-the blue from the Toronto Maple Leafs. They were looking to hire a Strength & Conditioning Coach and asked if I would come in for an interview. To say I was shocked would be an understatement.  Not only had I not applied for the job, but I had never even considered a job in the NHL. I had never played hockey and was not a Toronto Maple Leafs fan.  I had just finished a busy summer training my private clients (I ran a business training NFL and CFL athletes and a small number of NHL'ers) and had just defended my masters thesis. In fact, I was trying to decide on whether or not I should take some time off that fall to travel the moment the phone rang. I decided that I would be crazy to turn down the interview and although it was probably a longshot that I would ever actually get the job it would still be a cool experience to go through the process.
The selection process involved a series of interviews. I suppose I did well enough on the initial interview and was told that Pat Quinn, the GM and Head Coach of the team, wanted to interview me next.  I would have been nervous regardless of who was conducting this final interview but that nervousness was amplified when I met Pat. On first appearance Pat was an intimidating guy. He was a large man with hands like bear paws and a booming voice that fit the rest of the package. I don't remember a single question he asked me in the first half of that interview but I do remember that it wasn't going particularly well. He had a cynical look in his eyes and didn't seem too impressed with any of my answers to his questions. He seemed especially shocked when I felt compelled to tell him that I had never played hockey and would understand if that was a problem. At that point he took a long pause and looked through my resume again and then asked me …
"So you never played hockey huh?  What makes you think you're going to be able to coach these guys?"
I figured that I probably wasn't getting this job anyway so I answered…
"Well I figured that I would let you keep doing the hockey coaching and I'd just stick to the weight training"
Pat erupted in laughter and shook his head. He then asked me the final follow-up question of the interview…
"Good answer kid… Are you Irish?"
I answered that question correctly and to this day I am pretty sure that my ancestry won me that job more so than my education or experience. Thanks Grandma!
I would later discover that this was not the first time that Pat had taken a chance by going against the grain and trying to be innovative in the way that his teams prepared off of the ice.
Pat was the first NHL coach to hire a full time Strength & Conditioning Coach when he hired Pat Croce (a karate instructor) to join the Flyers staff back in 1980. Croce would later go one to become a successful entrepreneur and eventually purchase the Philadelphia 76ers.  Pat was also the first coach to hire a full-time team sports psychologist in 1981 when he brought Julie Anthony in to join the Flyers.  This was truly ground breaking both for the psychology profession and also for females working in professional sport
Big Man With A Big Heart
Pat was a larger than life figure. He was intimidating on first appearances and had a glare that could strike fear into the toughest of men but anyone who knew him knew that he truly had a heart of gold.
He would never walk past the trainers office without saying "Good Morning " or "Good Night" or stopping in to tell you a joke or make fun of you somehow.  Pat didn't care if you were the captain of the team or if you hung the jock-straps …if you were a part of the team you were an equal in his eyes and he treated everyone with class and respect.
It was not uncommon for me to come back to his office and see him involved in a lengthy discussion with one of the janitors or security staff.  He would routinely ask for the opinion of the equipment or training staff on hockey matters….he didn't always agree but he was always willing to listen and made you feel important and appreciated.
Pat was a genuinely tough man and that is why he did not need to act tough. He was never afraid to let down his guard and share a friendly smile or some kind words to young fans or someone in need of some cheering up. He taught me that being a real man also meant being able to be kind, compassionate and even vulnerable sometimes.
The Hockey C.E.O.
Pat taught me a lot about coaching and about leadership that has helped me extensively in my career.
Pat believed in hiring the right people for the job and then empowering them to make decisions and take actions that they felt were necessary to accomplish the objectives they were tasked with. Pat had clear and high expectations but he never micro-managed.  I don't think I ever truly appreciated this about Pat until I had the opportunity to work with other coaches who did not share this philosophy.  Pat had confidence in himself, his philosophy and his plan and that confidence was contagious.
He coached the same way he managed his staff. Pat was a strong believer that there was such a thing as "Over-Coaching".  He wasn't quick to bench a player or pull a goalie if they were struggling. He gave players a long leash and believed in letting them find their own answers and work their way out of their own problems. This extended to the dressing room where he believed that the room belonged to the players. Some critics suggested that Pat wasn't a players coach or was growing out of touch with the players of today. This was inaccurate. When issues would arise in the room, Pat believed that the players needed to take ownership and work through the problems together. He often said that "They don't need to love each other but they have to learn to respect each other and work together" and if they couldn't find a way to do that then the team ultimately wouldn't be successful no matter what the coach did. Sometimes this frustrated players who wanted more feedback or a preferred a warm and fuzzy approach but I believe that it made weaker players tougher and helped the truly great players raise their game to another level.
One of the most masterful traits that Pat had as a coach was his ability to keep an even keel in the emotions of the team.  Whenever the team was struggling, Pat had enough sense to ease off on the intensity of practices, throw in a day off or allow for a little bit of levity in the dressing room. Likewise, when the team was on a roll and the boys would get a little lazy or start to think they were too big for your britches, Pat would find some small and seemingly insignificant thing to lay into the players about. An N.H.L. season is a marathon…not a sprint. Its 8 months (10 if you're lucky) of long days, gruelling practices, late nights and long flights.  It's impossible to keep your game face on 7 days a week for 10 months. There are always going to be ups and downs.  You need to find a way to keep your players focused on the ultimate goal while making sure they don't burn out along the way. As the saying goes…"You are never as good or as bad as they say you are"…Pat brought this saying to life for me.
Towards the end of my first year I asked Pat if I could have a performance review meeting. I only had a one year contract the end of which was fast approaching and wanted to know where I stood.  I came to the meeting with spreadsheets full of testing results and documentation to validate the program I was running. I told him that even though I felt as though I was doing a good job I had compiled a list of objective measures to quantify my performance. He did not open the file. He threw it onto a pile of papers on his desk and said
"Listen…I don't know a whole lot about the science of what you're doing back there but since you started we are winning more than we're losing, our guys are healthier and nobody has been complaining about you. You come early, stay late and work hard. That's good enough for me"
At the time I was disappointed that he didn't want to see all my fancy charts and graphs I worked so hard on…in time I would realize how lucky I was. Pat believed in me when I sometimes wasn't sure if I believed in myself. He took a leap of faith with me and in return I worked my ass off to prove him right.
The BIG Irishman
Perhaps my favourite memories of Pat were the times spent away from the rink. Pat was a master storyteller in the great Irish tradition. He was even known to break out into song from time to time!
He had so many amazing stories. Stories from his playing days and all of the antics guys would get up to outside the rink. Stories about guys he had coached. He had a passion for military history and Irish history and taught me so much about so many things completely unrelated to coaching hockey. Most of Pats stories will not be shared here...I could never do them justice in the way that he could and many of the good ones were not PG-13 anyway, but anyone who had the pleasure of having worked with Pat in any capacity would testify to this.  He loved to entertain, loved to hold court and had a sharp wit and dry sense of humor that will not be forgotten. Perhaps best of all was that he allowed me to decorate the room every year and celebrate St Patrick's Day (complete with catering and music). Those were some of my best memories of my 8 years with the team.
Pat Quinn made me a better coach and a better man and I am eternally grateful to him for that.
Rest In Peace Big Irishman!